eMail just for you!
Just as you want. No delayed emails, no undelivered emails!
Perfect eMail on your dedicated server!
24 X 24 monitoring. Installation, configuration and Backup included in all packages!
Free Technical Support
Technical support provided by professionals.
24 x 24 monitoring included in the price!
DirektHost – over 10 years of experience!
eMail Servers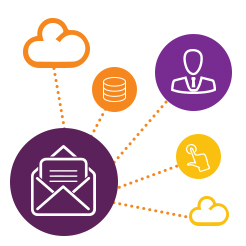 Email is an important tool for business communication and a viable email service will return its cost very soon after installation. Therefore, we provide our clients with the necessary resources to support rapid and constructive communication to develop their business.
Depending on your needs and preferences, the client has several access options for e-mail boxes, ie webmail, IMAP, POP3 and SMTP. The client will also have an anti spam and an anti virus protection, so that communication with partners and customers takes place in the best conditions.
Furthermore, a powerful e-mail server will also support marketing activities of the company. Email marketing actions need a stable technical basis to reach the potential client's inbox.
Starting from 80 EUR/month
Includes: installation / administration / backup / support / 24 x 24 monitoring
Request a customized offer!