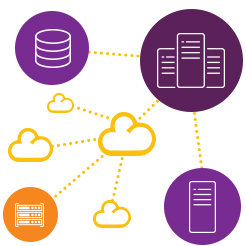 By our Dedicated Servers service, the client leases an entire server, where his sites and applications will be hosted exclusively. Dedicated servers are recommended for companies with complex needs in terms of hosting, companies with a lot of employees, which generate a huge data traffic and intensively use not only the e-mail boxes but also other business applications needed daily. Another great traffic generator is the file transfer and an increased daily volume, along with other tasks that fee the system, require a solid infrastructure that can support the daily operations of the company.
What is Dedicated Server Hosting?
Because of the fact that your website is the only one stored on the server, you will have maximum control over the server. It is, however, pretty expensive.
All Dedicated Servers are a Full managed solution, designed to take your business to the next level. Having a dedicated server will provide your sites with a higher level of security, speed, and uptime.
Dedicated Servers advantages:
* Performant systems: we provide efficient systems that can support the performance needs of users with a high consumption of resources.
* Cost transparency: the client will always pay for a package tailored to his needs.
* Specialized consulting: analysing the client needs and recommending the dedicated server solution that suits him best;
* Viability: constant high performance in maximum operating conditions of resources.
* Independence and control: access to an easy to use control panel that allows the easy administration of the server.
* Fast support: we provide a 24×24 technical support, 7 days a week, so that any problem can be solved without delay.
---
Budget Dedicated
CPU: AMD Athlon 64 5600+ X2
Memory RAM: 4 GB
HDD: 2 x 400 GB
Traffic: unlimited
Conection: 100 MBit
Activation fee: 0
Location: Europa
Order
Performarce Dedicated
CPU: AMD Athlon 64 6000+ X2
Memory RAM: 8 GB
HDD: 2 x 750 GB
Traffic: nelimitat
Connection: 100 MBit
Activation fee: 0
Location: Europa
Order
Ultra Dedicated
CPU: Intel® Core i7
Memory RAM: 32 GB
HDD: 2 x 2 TB
Traffic: nelimitat
Connection: 1 Gbit
Activation fee: 100 EUR
Location: Europa
Order
Recent Posts
Archives
Categories
Do you have any questions about servers?